"Report of Study on the Attitude towards Hong Kong Brands and Purchasing Behaviour of Greater Bay Area Consumers" has released in "Hong Kong.IN.Brand Greater Bay" Media Briefing on 2 June 2021. The above-mentioned details of consumer survey will also be documented as part of the Research Report, to be released at the end of the Project.
Report of Study on the Attitude towards Hong Kong Brands and Purchasing Behaviour of Greater Bay Area Consumers
The implementation of the "Outline Development Plan for the Guangdong-Hong Kong-Macao Greater Bay Area" has accelerated economic growth, social development and regional integration of the Greater Bay Area (GBA), resulting in impressive increase in purchasing power and the unleashing of high demands for consumer goods and services. Meanwhile, many driving forces are re-shaping the landscape of the Greater Bay market. The remarkable ones include: advancement of technology, rapid changes in the ecosystem of social media, emergence of New Retail, the impact of COVID-19 and the socio-economic transitions in the region. The confluence of these forces has brought profound changes to the consumption culture and consumers' buying behaviour in the GBA while at the same time made it an "unfamiliar" territory to many Hong Kong companies who used to promote their brands there with formulaic, conventional management approach.
Though many Hong Kong brand owners are anticipating to capture the vast business opportunities in the Greater Bay Area, lack of updated knowledge of the market and inability to change brand management mindset have made them feel powerless to deal with the emerging rules of the competition and new expectations of local consumers. To assist Hong Kong companies to overcome these difficulties and understand the lynchpin of the future growth of their brands, the Hong Kong Brand Development Council and the Chinese Manufacturers' Association of Hong Kong commissioned a professional research team to conduct a large-scale consumer survey (the Study) in the Greater Bay Area, under the sponsorship of the Trade and Industrial Organisation Support Fund of the Trade and Industry Department, HKSAR Government.
Through an overview of the Greater Bay Area and comparative analyses of the differences in consumers' buying behaviour across ten GBA cities, the Study would enable Hong Kong companies to understand the consumption patterns and characteristics of brand learning behaviour of local consumers in the regional market, as well as their perceptions, attitudes and purchase intention of Hong Kong brand products and services. Such market information would provide valuable insights for Hong Kong companies, with an eye to helping them identify business opportunities and customise brand development and management strategies.
Major findings
The research was in the form of questionnaire survey conducted in 9 cities in Guangdong Province plus Macao from July to October 2020. Over 1,720 consumers were sampled for face-to-face interviews and 1,706 completed questionnaires were used for statistical analysis. 58% of the respondents are female; the majority of them are from two age groups, i.e. 15-24 years old (34%) and 25-34 years old (37%); 46% have a monthly income of more than RMB 6,000, and 76% completed post-secondary education.
The Study reveals consumers in the Greater Bay Area are no longer strongly motivated by conspicuous consumption but becoming more rational. They are savvy and discerning consumers. Relatively, some consumers especially Z-generation place emphasis on differentiated and emotional benefits but have lower allegiance to brands.
Online information searching and buying behaviour is even prevailing in the wake of COVID-19 epidemic, consumers in the Greater Bay Area prefer to search for product/service information and place orders through traditional e-commerce platforms like Taobao, JD.com and Tmall; while Xiaohongshu and social based e-commerce platforms like Pinduoduo have become increasingly popular and influential in shaping consumers' brand attitudes and buying behaviour.
When shopping online, product quality is still the most important deciding factor, followed by convenience of shopping, delivery services, and personalised consumer experience. A considerable number of respondents admitted that attractive promotional campaigns are tempting, but surprisingly advertising claims of live broadcast and the sales techniques of the hosts are deemed relatively less important.
The Study subsumes GBA consumers' shopping behaviours under four types of shopping orientation, i.e. "Brand-oriented" (domination by brands), "Leisure-oriented" (with emphasis on good service and entertaining experience), "Price-oriented" and "Planning-oriented". Results of discriminant analysis confirm that variations in consumers' purchasing behaviour, either across cities or among different age groups, are mostly predicated on "brand-oriented" and "leisure-oriented" inclinations. Older consumers are prone to be "brand-oriented", and consumers with middle to high level of spending generally often exhibit both "brand-orientation" and "leisure-orientation" in varying degrees.
In terms of the most preferred Hong Kong products/services, the top five industrial categories are cosmetics (37.9%), jewellery/watches (36.4%), food/beverage (32.6%), clothing and accessories (31.8%) and daily necessities and boutique items (29.5%), followed by health products, footwear and catering service. The ranks of these preferred product/service categories vary across cities, due mainly to disparities in personal income and different levels of urbanisation development.
Consumers in the Greater Bay Area learn about Hong Kong brands through multiple channels. TV advertising is still the most popular channel, followed by word of mouth. Shopping malls and online shopping platforms are taking on escalating importance, as 30-40% of respondents claimed they gathered information about Hong Kong brand products via these avenues. Besides, a considerable number of respondents indicated that they would avail themselves of the opportunity of visiting Hong Kong to gather information about Hong Kong brands. If adding WeChat official accounts, mobile advertisements, professional websites, and online celebrity recommendations, one can find online channels have already accounted for more than half of the media that disseminate information of Hong Kong brands in the Greater Bay Area market.
GBA Consumers generally have a good impression of Hong Kong brands. When referring to Hong Kong brands, most respondents would associate them with the favourable attributes like "High Quality", "Fashionable", "Safety", "Value for Money", "Reliability", "Good Reputation", "Durability" and "Innovativeness", etc. To them, the three most important criteria for the selection of Hong Kong brands are "Product Quality", "Good Brand Image", and "Safety and Reliability", followed by "Word of Mouth", "Attractive Promotional Offers" and "Popularity of the Brand".
Most interviewees could identify the differential advantages of Hong Kong brands. While being impressed by "good quality" and "integrity" of Hong Kong brands though, they commonly pointed out the declining performance of Hong Kong brands in the areas like advertising design, customer relationship, services and the ability to tailor to customer's personal tastes. These reflect that Hong Kong brands have certain advantages (e.g. "reassuring" notably) in the minds of consumers in the Greater Bay Area, but they are weak in delivering enriched brand experience to consumers.
More than 55% of the respondents are willing to pay a higher price (mainly at a premium of 5%-10%) to buy Hong Kong brand products. This leaves some room for Hong Kong brand owners to maneuver their pricing strategy. It is noteworthy that both GBA consumers' recognition for the merits of Hong Kong brands and their willingness to pay a premium are relatively lower, as compared to results of previous studies that the BDC conducted in other provinces or cities in the Mainland.
The deterioration in social relations between Hong Kong and the Mainland in recent years, together with the recent social movements in the territory, has somehow led to a negative impression of Hong Kong by residents in the Greater Bay Area, although local consumers' general perception of Hong Kong brands remains neutral with a slight uptick. Over the past three years, the scores to measure the important equity of Hong Kong brands including brand preference, frequency of purchase, popularity of Hong Kong brands and the effectiveness of their promotional work were all close to the "neutral (flat)" level, but the last three indices were on the verge of "drifting down" as perceived by many interviewees. This suggests that Hong Kong brands still enjoy a relatively favourable evaluation in the Greater Bay Area, but an imminent risk of "brand erosion" warrants special attention by Hong Kong industries.
Interviewees also pointed out that the promotional effort by Hong Kong brands in the Greater Bay Area, particularly online promotional activities, was apparently inadequate, although electronic word of mouth (eWOM) for Hong Kong brands is positive yet relatively limited. Local consumers in the Greater Bay Area seem to have increasingly got used to buy Hong Kong brand products in the cities where they live, to the extent that respondents with such location preference outnumbered those wishing to go shopping across the border. It follows Hong Kong brand owners should consider stepping up investments in offline shops and improving online shopping and delivery services in the Greater Bay Area.
Management Insights
With the Greater Bay Area market undergoing profound transformations, the overall quality of consumers in the region has improved and the population of middle class there has expanded overwhelmingly. Adoption of New Retail strategy and use of big data to dig out customer needs by local firms have triggered significant changes in consumption patterns and marketing practice. Hong Kong companies have to step up and upgrade the level of brand development with new brand management capabilities. The findings clearly disclose Hong Kong brands have to face up to the new challenges and the early warning signals; they should correspondingly strive to "maintain advantages and make up for shortcomings" in key areas such as brand management mentality, design of brand experience, application of new IT and retail technology, as well as promotion and image optimisation.
The research team thus suggests that Hong Kong companies should accurately select target markets and determine entry priorities for their brands. More importantly, they should move from product-oriented to experience-oriented brand management approach to designing, managing, and coordinating all brand-building activities in a holistic manner. Some brands can take advantage of the associated brand attributes of "Hong Kong brands" to step up deployment in the mid-to-high-end market in Greater Bay Area; and they may need to redefine the promised value of brands. From the tactical point of view, Hong Kong companies particularly need to adopt a customised omni-channels strategy to promote brands and deliver enriched brand experience. These call for effective use and monitoring of omni-channels, better integration of online and offline promotional activities, provision of more comprehensive service support, and smarter application of mobile devices and advertising.
At the operational level, Hong Kong companies have several options to revamp or strengthen their brands, including using the premium price capabilities of Hong Kong brands to flexibly set prices; shifting the focus of brand promotion from advertisement and sales promotion to delivery of brand experience and desired lifestyle; applying new retail techniques to enhance brand experience; using big data meticulously to support operations and develop marketing mix strategies; carefully selecting the store location to enter shopping malls; and handling marketing communication adroitly through more accurate deployment of promotional resources and effective use of live broadcasts. At the same time, Hong Kong brand owners should continue to invest in customer relationships, cultivate brand loyalty and develop brand communities.
In view that Hong Kong, as a source of origin, has shown signs of diminishing "blessing" (positive "country-of-origin effects") on Hong Kong brands, the research team calls on the SAR government and all sectors of society to work together to reshape and revamp the image of Hong Kong and Hong Kong brands. In addition to launching social advertising and public relations activities tailored to the Greater Bay Area, formulating special promotion plans for cities, and assisting selected industries to organise conferences and exhibitions for promoting Hong Kong brands and products in the regional market, the Government should also envision building a "Brand Greater Bay" and promote it as another iconic attribute of the region's identity. This would open up a new avenue for advancing the high-quality development of Greater Bay Area, highlight Hong Kong's irreplaceable role in fostering a "brand economy" in the region, and inject new elements into the positive image of Hong Kong and "Hong Kong Brand" as well.
(For a full report, please refer to the Chinese version「粵港澳大灣區消費者對香港品牌的態度及購買行為調查報告」)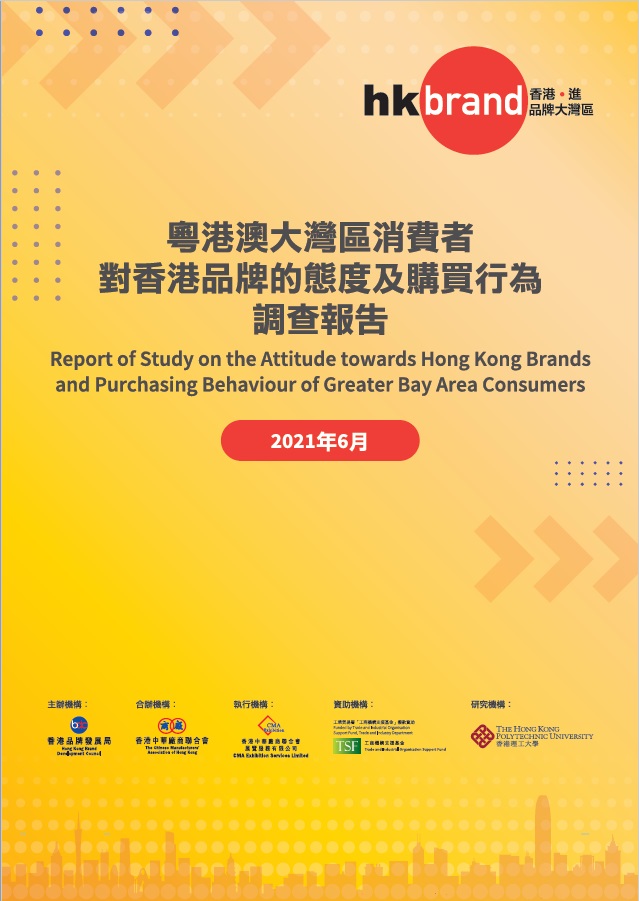 Download "Report of Study on the Attitude towards Hong Kong Brands and Purchasing Behaviour of Greater Bay Area Consumers"